Friday, February 25, 2005
snow fun
On Wednesday, I woke up and got ready to go for class as usual. After leaving my room and walking out, I saw that the whole landscape was covered in some beautiful white ice. Its called snow, if you didn't already know that. Now, class is something that goes on everyweek.

But where I am, if you wake up and see 3 inches of snow, you should consider yourself lucky. And so, a bunch of us thought it would be a good idea to play with the snow. It started off as usual, everybody making snowballs and throwing at other people. We then realised that its damn tiring to do that. And so...we spent the next 2 hours making the most of the snow all around.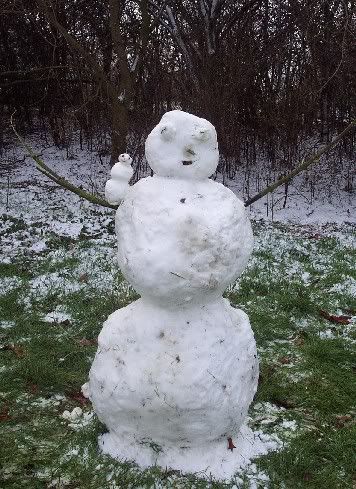 The dude you see is about 5 feet tall. That's even taller than some women I know. The middle part of the dude was so heavy that it took 3 of us to carry it up onto the bottom part. Sort of an hourglass figure don't you think?

In all.....no regrets in skipping class. Lectures, you can learn from books. Experiences like this, you will cherish forever.

Labels: stories



Ramblings:
looks handicapped.. but yeah.. it's time like this that will be remembered and cherished :) hmm.. when will i be able to actually make a snowman..
---
Post a Comment