Monday, May 23, 2005
2005 bimbos
A couple of weeks ago, I stumbled upon the Miss Universe website. However, due to my busy exam schedule laziness, I didn't bother looking through the pictures and watching their video interviews.

Say hello to our very own bimbo. Much, much better than last year's fatso though. Last year we had a posh 'clueless about Malaysia, can't speak Malay' bimbo. This year, we have an AhLian. (I just added a picture of last year's bimbo, just click on the word 'fatso' above, the rest of the links take you to articles I wrote.)

Anyways....since I was a bit free, I decided to make a collage of the chunnest chicks.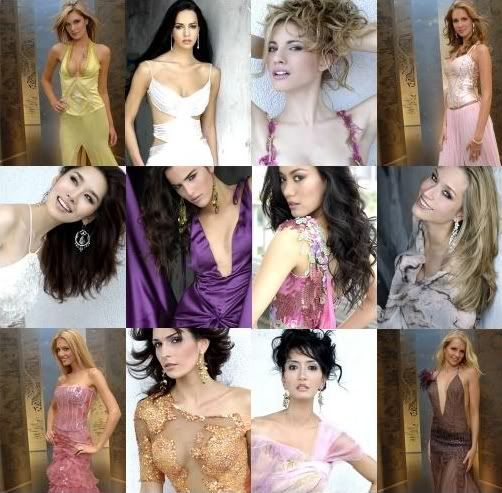 1st row : South Africa, Venezuela, Greece, Brazil
2nd row : Korea, Chile, Thailand, United Kingdom
3rd row : Serbia&Montenegro, Spain, Indonesia, Australia

As you can see, South Africa has a pair of rather large mamaries. I thought Venezuela looked a bit like Monica Belluci. Korea, Chile and Thailand are my favourites. You should watch their videos. I included Indonesia because I thought it was quite cool that they allowed a participant this time around, although she is the only one wearing a one-piece swimsuit. And damn, the Australian accent sounds damn sexy..
As usual, I have always said, beauty contests should be kept as that. As soon as most of them opened their mouths, you just wanted them to slap them for being so bleaming stupid. The Belgium one takes the cake (go watch the video if you feel like it). We also learned that the latest fad in most countries is to wear some colourful rubberband thingy around your wrist. They have it here in the UK as well. Supposedly, its to help out a certain cause (yellow=Lance Armstrong, pink=breast cancer, black&white=racism). However, this shit can't fool me....you just know that most people wear it for fashion anyway. Someone tell me whether you guys are doing the same thing back home?
I was actually planning to do another collage of the hideous not-so-fortunate contestants, but then I realised...this is not keeping with the purpose of the Miss Universe competition. Beauty is only skin deep. Those ladies who aren't that beautiful on the outside are probably gorgeous on the inside. Every woman is probably stunningly beautiful in her own way. So, let us embrace the beauty of all the contestants...
*Actually, I was lazy to do the 'ugly' collage....resulting in me having to say all that crap. Please do check out Albania, China, Angolia, Ethiopia, Japan and Jamaica. Do not blame me if you puke on your keyboard*
Labels: reviews
Ramblings:
Hi Vincent! Thanks for stopping by my blog too.. hehe.. although I'm going through what some would call a Writer's Dry Spell i.e. too lazy to write good stuff.. hehe..
Err, actually it was Yuen Li who gave me the link to your blog.. hehe.. I heard from Jillian that you had one, but never really got the web-address..
Oh, btw, I visited the Miss Universe website after reading one of your entries.. Unlike you, my biggest concern was that the new crown was very ugly and I much preferred the old one! Haha..
---
Post a Comment