Thursday, June 02, 2005
bimbos in costumes
The finals of the Miss Bimbo Universe competition was held a couple of days ago. Miss Canada won it followed by Miss Puerto Rico and Miss Dominican Republic. But....all that crap is not important for this blog.

Following the well received picture collage in my last post about this competition, I decided to compile pictures of the contestants in their national costumes on that night itself. This was supposed to be a short and simple post.....but I got carried away. Pardon me for the picture overload if you have slow Internet connection.

Judging from the pictures, I figured that there are many themes in which people's national costume can come by. Of course, some countries don't have a set national costume, so they tend to 'borrow' other peoples costumes. Singapore and America are good examples. Other countries had better ideas. They decided that since they did want to 'borrow' other people's design, they should CREATE their own....some to very disastrous results..


---

The traditionally inspired ones...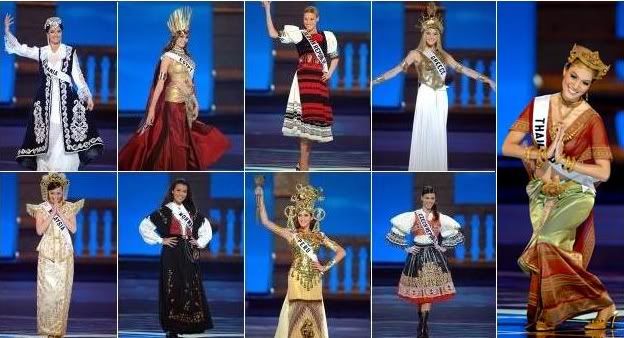 1st row : Albania, Egypt, Slovak Republic, Greece
2nd row : Malaysia, Norway, Peru, Czech Republic
Right : Thailand (winner of best traditional costume)

Generally.....these are the 'real' traditional ones - simple, yet elegant.


---

The really original ones....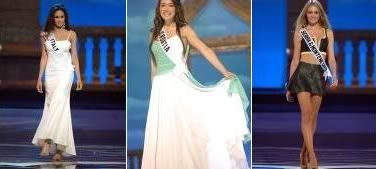 L-R : Italy, Croatia, Serbia & Montenegro

These dudes probably did not have 'traditional' costumes...so they wore usual evening gowns (or cheerleader's uniform in the case of the Serbian chick). Pretty damn original I would say. At least they didn't make a fool of themselves...


---

The elaborate ones...








Left to right :
Canada - "Look..I've got a huge feather duster on my head!"
Chile - This one actually looks nice. Good colour contrast. Check out the slits in the skirt.
Panama - "Uh-oh...I need to pee. Help me take this out please..Hurry!"
Trinidad & Tobago - "I can't find my hands!"

Still.....I think these are alright.


---

The animal kingdom inspired ones....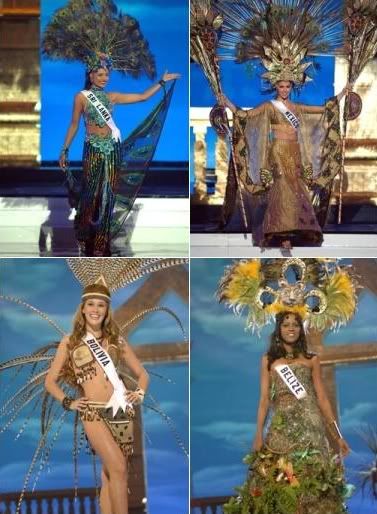 Clockwise from top left :

Sri Lanka - A peacock on the head
Mexico - A peacock on the head
Belize - Yet another peacock on the head..also with a tiger, butterflies and worms. Her skirt looks like a jungle.
Bolivia - Lobster legs! She's got lobster legs on her back!

There were a few other contestants with peacock feathers in their heads. I thought these bimbos all wanted world peace? Look at how many peacocks they slaughtered!


---

The household item inspired ones....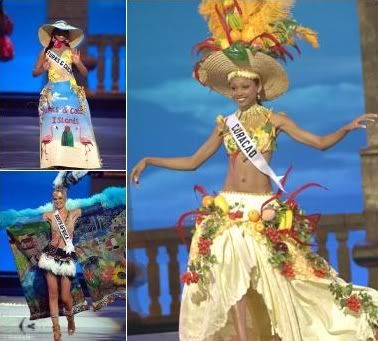 Clockwise from top left :

Turks & Caicos Islands- Her skirt looks like a towel my ex-housemate had. Only difference was my ex-housemate's towel said "Maldives"
Curacao : She's a walking fruit basket! I am actually curious as to whether those fruits are fresh or plastic
South Africa : I swear...my grandmother had a carpet that looked exactly like that


---

And there's those that are just fucking ridiculous..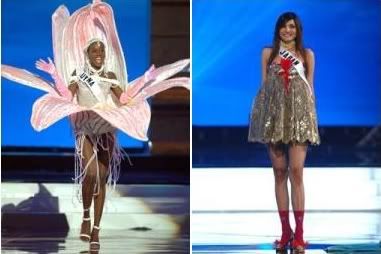 Left to right :

Guyana : "Mum! I got the part in the school play...I'm a fucking flower!"
Japan : Ok..I cheated here. This wasn't her national costume, but she wore it for the evening gown contest. I reckon she should have used it as pyjamas for when she gets pregnant.


---

I now decree that we only need to see these chicks in the swimming costumes. Every other aspect of the competition is irrelevant..


Labels: reviews



Ramblings:
damn, you certainly saved the best for last! those jappers sure have a weird, eccletic sense of dressing, hell, i'd expect them to at least wear a proper evening gown~ bloody ugly thingy Miss Japan got hanging on her
---
Post a Comment