Tuesday, August 09, 2005
how to behave in airports - checking in
While travelling last month, there were loads of things that successfully irritated me. At the airport, one of the most irritating things centered around the check-in counters.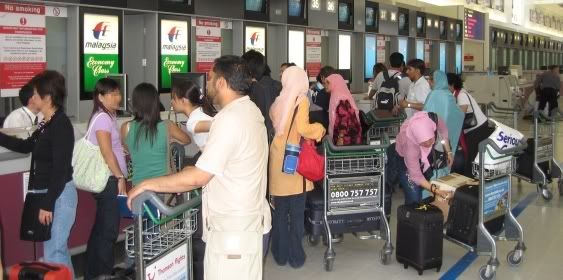 Chaos.




This was a scene at the Manchester airport MAS check-in counter when I sent my parents and brother off. Do you see any order? There are trollies everywhere with groups and groups of people around. After saying screaming "excuse me" like ten times only did the nosey Malay lady get out of the way so that my dad could push his trolley to the counter.

If you aren't travelling, stay away from the check-in counter. There are enough people around. No need to be so nosey. You don't need to crowd up the place and block actual travellers from getting to the desk. Let the people who are travelling do the actual check in. If you aren't travelling, go sit in McDonalds and wait for them.

If you are travelling in a large group, you don't need all ten people at the check-in counter at the same time. Actually, you can even just assign one person to check in for everybody. Passport control is not done at the check-in desk. All they need to do is ask people whether they packed the bags themselves, something they only ask at the end. So, kindly stand behind the line and away from the damn counter till the point where they want to ask you the questions. That's just courtesy so you don't block everybody else.

Next, trollies take up a lot of space. If you have one bag, put the damn trolley aside. The trolley is to get from the carpark/train station to the departure hall. Once you start queuing up, ditch the trolley. You can wheel your stupid bag to the check in counter. If you are the kinda person who has a shit load of bags and have to use the trolley, then be courteous and line up your trolley properly at the counter. Scroll back up to the picture. That is a bad example of how to place your trolleys. Don't do that!

Key point here is courtesy. If you don't place your trolleys properly, it makes it really hard for other people to get to the counter, and hence making people in the queue wait longer.

Oh, by the way, did anybody realise anything cool about the above picture? Go back up and have a look again. We Malaysians are wonderful.........




.
.
.
.
.
.
.
.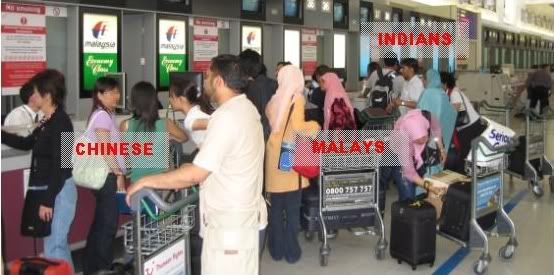 We truly are a bunch of multi cultural dickheads.

Ramblings:
that's heathrow airport, right ? Couldn't agree more. It's chaos there. Not only MAS flights, it's EVERYWHERE.
I was on business class that time, was lucky enough to have the privilege checking in a less crowded exclusive counter. Sheesh...
---
Post a Comment