Friday, August 26, 2005
kempen belog bm


Ok folks...if you didn't already know, a bunch of us decided that we were going to blog in BM on Merdeka day.

Why? No particular reason. It's not to show that we are patriotic or that we love our country more than everybody else. It is pretty much the same reason the taxi drivers plaster their cars with all those mini-flags - because it's fun.

When was the last time you guys wrote something in BM? For most of us, it would probably be in school or college. Time to refresh your memory and have fun writting in broken BM. It doesn't matter whether you are femes or whether 3 people read your blog everyday. It doesn't matter if you update your blog once a day or once a month. If you have a blog, have fun with it on Merdeka day!

Feel free to use my awesome banner above on your blog to support this (pointless) cause. Or, if you prefer a smaller one....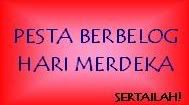 Related articles :

Kecikpendek (The chat log)
Mata-ris
Encik Menang-sen (don't ask)


---

UPDATE : I noticed that Mata-ris had a lot of questions that a lot of my friends asked me the other day.

Why 'BELOG'?

Because Blog is English, and I thought it would be fun to modify and adapt it to Malay. Don't tell me it's wrong. Although very inaccurate, I cheekily told my friends the other day, "Sebagai seorang perintis, saya berhak mencipta apa-apa perkataan sesuka hati."

(That's because they never heard of Malay blogs before)

Ramblings:
baiklah. berdasarkan pada ayat ini yang kau tulis "It doesn't matter whether you are femes or whether 3 people read your blog everyday. It doesn't matter if you update your blog once a day or once a month. If you have a blog, have fun with it on Merdeka day!" , aku akan pikirkan sesuatu untuk tulis untuk blog aku pada hari merdeka
---
Post a Comment